Emergency Air Conditioning Bergen County NJ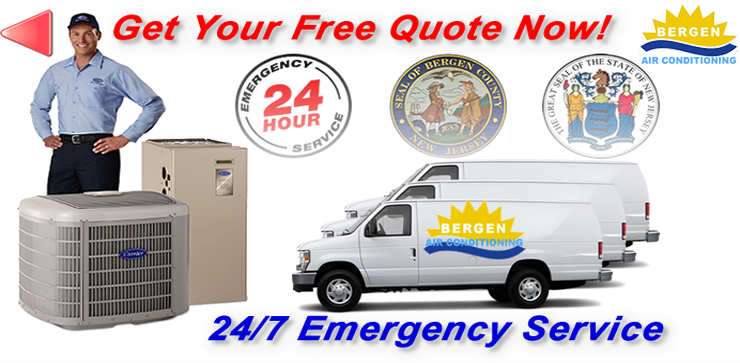 Bergen Air Conditioning has been providing both residential and commercial emergency cooling solutions in North New Jersey for 30 years. Our expert team of professionals is skilled at assisting you every time you have an emergency concerning your air conditioner. Each and every client who comes to us, regardless of the size of their establishment, benefit from quick and responsive emergency service, coupled with nationally recognized, top quality cooling products.
24/7 emergency AC Repair Service
Contact us any time. We are available around the clock. We service all types and makes of air conditioning equipment, with virtually all our air conditioning contractors competent to perform all repairs on the spot. The following are some of the benefits of coming to us;
We have the expertise to service all brands
We provide 24 hour emergency services
Each and every one of our technicians is an expert chief technician.
We do not charge you excess for emergency services.
Quickest emergency response time in Bergen County.
Solutions for every air conditioning emergency
We listen to suggestions from our clients and then tailor solutions to meet their wishes and desires. So, at Bergen Air conditioning company, we offer both generalized and customized solution. For clients who would like customized services, we have something good for you. On the other hand, if you need advice, concerning generalized services, we will be more than glad to help you out.
For reliable effective and efficient service in north New Jersey, call our office now to schedule a session. Our goal is to deliver affordable quality emergency air conditioning services to all our clients. Bergen Air conditioning company is here to serve you.